Deep Drilling Machine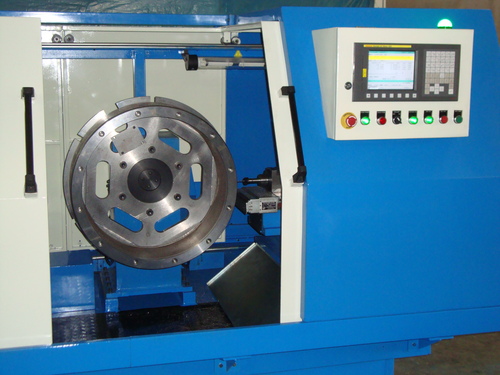 Deep Drilling Machine
Product Code : SA-17
Brand Name : SWARAJ AUTOMATION
SPECIFICATIONS Drilling from Outside
Basic Job - Pallet die with pre-drilled holes, 12mm maximum drill size.
Two jobs will be loaded at a time.
Job Size - 1st Spindle max. Out side Dia. range 430-730mm, Height 280mm.
2nd Spindle max. Out side Dia. range 690-1100mm, Height 280mm.
Weight 750Kgs max.
Operation - Enlarging pre drilled holes from external surface by Drilling. e.g. 3mm
hole to 3.5mm hole at a depth of 15/20/35mm.
Spindle Heads - Two Spindle Heads, Separate for each Job. Precision Bearings,
Power 2HP, Speed variation through VFD,
Spindle speed range 2000-5000rpm.
Coolant equipment - Pump unit with tank and tray unit.
Travel - Rotary Axis with face plate for Job holding.Rotation 0-360Degree Role over.
X Travel 360mm for both slides, Z Travel 175mm for both slides.
Control System - FANUC 0i CNC, 8.4 Color LCD with AC Servo Motors & Drives. CNC system is of 3 axis control for each side.
Job Program - Auto generation of program after entering pellet die data. Automatically calculates the distance of horizontal & Rotary movement and remembers even after machine off.
Electrical - Standalone type control panel with Siemens gray powder coated. Separate CNC consol for each side.
Optional - Chip conveyor for chip disposal.